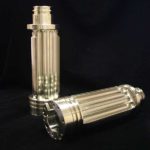 Your Houston precision machine shop can provide a wide array of options for manufacturing and machining the products and components you need. Computer numerical control machines, better known as CNC machines, are one of the most commonly used systems in the modern machine shop. Here are some of the most important facts about these essential machines and their uses.
What Is CNC Machining?
Houston CNC machining systems use computer applications to control a variety of cutting and grinding tools in the machine shop environment. This can allow much greater precision and faster manufacturing for parts that require multiple cuts or other actions. Because the entire process is programmed into the computer and automated, CNC-machined parts can be manufactured to the highest standards of precision.
Types of CNC Machines
Your Houston CNC machine shop will typically have a variety of options to suit your needs, including the following:
CNC lathes are designed to cut and surface materials while rotating them. They offer significantly greater accuracy and precision compared with comparable manually controlled lathes.
CNC mills perform cutting and drilling tasks to create precision parts and components for a wide array of industrial and manufacturing needs. They can encompass a range of functions that include turning, drilling, face and shoulder milling and tapping.
CNC routers are used to cut a wide range of materials that include plastics, aluminum, steel, composites and wood.
As the name suggests, CNC plasma cutters use plasma torches to cut heavy materials quickly and in the most accurate way possible. By melting through the precise areas for cuts, these CNC systems can produce faster and cleaner results than some other CNC methods.
CNC electric discharge machining strategies apply electrical sparks to create precise patterns in metals and other materials.
Vertical and horizontal CNC machines are also available to ensure the perfect angle of cutting and machining for a variety of parts.
When combined with advanced positioning control systems, these CNC machines offer faster processing and increased accuracy for your components and parts.
At Custom Components & Assemblies, Inc., our 20,000-square-foot facility features advanced CNC machining tools to provide added precision and accuracy for your components and parts. We can achieve tolerances of less than .0005, ensuring that your finished precision machined parts are suitable for your needs. Our Houston precision machine shop team adheres to the highest standards of quality management and has earned ISO 9001:2015 certification. By working with the skilled technicians at Custom Components & Assemblies, you can be sure of the most practical solutions for your manufacturing needs. Give us a call today at 713-937-6225 to get a quote or to schedule a project with us. We look forward to the opportunity to serve you.