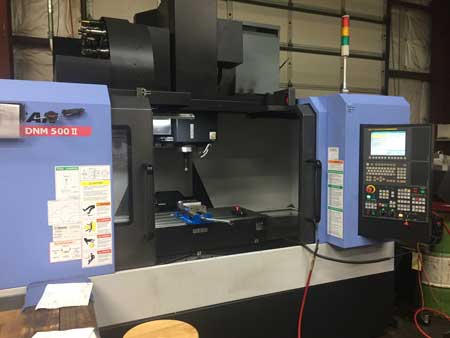 At Custom Components & Assemblies, Inc., our precision machine shop is fully equipped with the latest in modern CNC machining and metal fabrication equipment. Our facility spans 20,000 square feet and includes cutting-edge CNC machining tools designed specifically to provide your company with the most accurate fabrication for components and parts.
Our metal fabrication team can provide you with expert guidance and start-to-finish support throughout your project. The advanced computer systems in use at our high-tech Houston CNC machine shop can speed the process of fabrication and can deliver parts accurate to tolerances of less than .0005, making it easy for you to achieve your goals when working with us.
The technicians at Custom Components & Assemblies have the experience and the expertise needed to operate our full lineup of precision machining equipment. From Millermatic welding units to CNC vertical and horizontal machining centers, we have the latest and most advanced tools to complete your project on time and to your specifications.
Call us today at 713-937-6225 to set up a consultation. We look forward to the opportunity to work with you and your company.
Equipment List
Multitask Machining
Doosan Lynx 220 LSYC – Fanuc Controls
Multi Axis Machining
Turning Diameter 11.8"
20" Between Centers
Live Tooling
CNC VERTICAL MACHINING CENTERS
Brother TC-31A – 4 Axis
14" x 10" x 12" Two Pallets
Brother Controls
Fadal VMC 15XT – 4 Axis
30" x 16" x 28" Extended Travel
Fadal Controls
Fadal VMC 15 – 4 Axis
30" x 16" x 28" Extended Travel
Fadal Controls
DNM 500 II – 3 Axis
40" x 21" x 20"
Fanuc Controls
Quantum VMC Q-1000V – 4 Axis
42" x 24" x 28" Travel
Fanuc 18MC Controls
Quantum VMC Q-1250V – 4 Axis
50" x 25" x 25" Travel
Fanuc 18MC Controls
DMG Mori Seki MV 653 / 50 – 4 Axis
60" x 26" x 25.6"
Fanuc Controls
CNC HORIZONTAL MACHINING CENTERS
Mazak H22
43.3" x 33.5" x 31.5" Travel – (2) 31.5" Shuttle Pallet
Daewoo H80
49.2" x 39.3" x 39.3" Travel – (2) 31.5" Shuttle Pallet
CNC LATHES
Mori Seiki CL-200 – MSC-803 Controls
Programmable Tailstock
Turning Diameter 13"
Distance between Centers 11"
Daewoo Puma 6S – Fanuc O-T Controls
Programmable Tailstock
Turning Diameter 9"
Distance between Centers 11"
Haas SL-30 – Fanuc/Yasnac Controls
Programmable Tailstock
Turning Diameter 14.5"
Distance between Centers 39"
Daewoo Puma 400C – Fanuc Controls
Programmable Tailstock / Steady Rest
Turning Diameter 21"
Distance between Centers 42.5"
Thru Hole 6.55"
(3) Doosan Puma 400LC – Fanuc 21iTB
Programmable Tailstock / Steady Rest
Turning Diameter 21"
Distance between Centers 81.7"
Thru-Hole 6.55" & 1000 PSI Chip Blasting
DHM-630 – Diamond Horizontal Milling Machine – Doosan
Equipped With:
Fanuc 18-iM CNC Control
Full 4th Axis
6,000 RPM High Torque Spindle
Through Spindle Coolant ?
Twin Pallet Changer
90 Station Tool Changer ( Upgrade )
Box Ways Construction
PCMCIA Card Interface
Upgraded Memory
Pallet Seat Detection
Spindle Orientation
Rigid Tapping
Helical Interpolation
Fast Rapid Traverse Rate
Flood coolant with large coolant tank
Chip Conveyor
Table:
Length: 24.8″
Width: 24.8″
Max Weight on Table: 2640 lbs
Max Workpiece Width X Height: 41.3″ X 53.1″
Index Time: 8.5 seconds
Travels:
X Axis: 39.4″
Y Axis: 31.5″
Z Axis: 33.4″
B Axis: 0.001° ( Full 4th )
Spindle Nose to Table Center: 5.9″ – 43.3″
Spindle Center to Tabletop: 2.9″ – 36.4″
Spindle:
Taper Size: 50
Max. Speed: 6,000 RPM
Power: 50 HP
Torque: 1278 ft/lb.
Feed rates:
Rapid X & Y : 1417 Inch Per Minute
Rapid Z : 1417 Inch Per Minute
Cutting Feedrate 945 Inch Per Minute
Tool changer:
Capacity: 90 Tools
Taper: 50
Max Tool Size: 12.6″
Max Tool Length: 24.8″
Max Tool Weight: 66.5 lbs.
Tool Change Time: 2 Second
HM-630 – Horizontal Milling Machine – Doosan
Equipped With:
Fanuc 18-iM CNC Control ( Upgrade for 5th Axis )
Full 4th & 5th Axis ( Upgrade )
TSUDAKOMA RB-500 Rotary Table ( Included )
6,000 RPM High Torque Spindle
Through Spindle Coolant
Twin Pallet Changer
120 Station Tool Changer ( Upgrade )
Box Ways on the Axis
PCMCIA Card Interface
Upgraded Memory
Pallet Seat Detection
Spindle Orientation
Rigid Tapping
Helical Interpolation
Fast Rapid Traverse Rate
Flood coolant with large coolant tank
Chip Blaster Unit
Chip Conveyor
Work light
Specifications:
Table:
Length: 24.8″
Width: 24.8″
Max Weight on Table: 2640 lbs
Max Workpiece Width X Height: 41.3″ X 53.1″
Index Time: 8.5 seconds
Travel:
X Axis: 39.4″
Y Axis: 31.5″
Z Axis: 33.4″
B Axis: 0.001° ( Full 4th )
Spindle Nose to Table Center: 3.9″ – 43.3″
Spindle Center to Tabletop: 2.9″ – 36.4″
Spindle:
Taper Size: 50
Max. Speed: 6,000 RPM
Power: 50 HP
Torque: 1278 ft/lb.
Feed rates:
Rapid X & Y : 1417 Inch Per Minute
Rapid Z : 1417 Inch Per Minute
Cutting Feedrate: 945 Inch Per Minute
Tool changer:
Capacity: 120 Tools
Taper: 50
Max Tool Size: 12.6″
Max Tool Length: 24.8″
Max Tool Weight: 66.5 lbs.
Tool Change Time: 2 Second
CERTIFIED WELDING
A.S.M.E. & A.W.S. CERTIFIED
Carbon Steel Welding
Material Group # 1 & 2 (516-65, 70)
G.M.A.W. & F.C.A.W.
Stainless Steel Welding
G.M.A.W., F.C.A.W., & G.T.A.W.
Aluminum Welding
G.T.A.W. & G.M.A.W.
Hem Saw H101-1A
Horizontal Saw 12" x 12"
FABRICATION / SAWING
(2) Two 250 Millermatic Welding Units – MIG
(1) One Miller Synchrowave 250 – TIG
7" Band Saw
ASSEMBLY
10 Ton Pnuematic Press
AIM JORACO TOGGLE-AIRE


Operates with a repeatability of .001″ and can be cycled up to 80 strokes per minute.



Orbital Riveting
(3)

 

Orbit Form B-310
Orbital Forming Capacity to .312" (7.92mm) Diameter in Steel