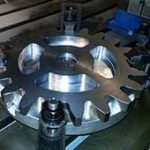 Houston CNC machining services offer real benefits to companies in a wide range of industries, including aerospace, construction, automotive design and many other key sectors of the modern economy. The acronym CNC stands for computer-numerical control, which allows high degrees of precision in grinding, shaping, cutting and forming metals and other materials in the machine shop environment. The accuracy made possible by combining computer controls with machining tools can offer significant advantages for manufacturing plants and other industrial facilities. Here are some of the most important benefits of CNC machining for Houston businesses.
Help for Key Industries in Our Area
Houston CNC machining services are of critical importance to many companies in our area. Some of the most important industries that depend on CNC machine parts, components and prototypes include the following:
Medical and dental companies require precision implants and custom prostheses that can most practically be constructed using CNC machine tools. Even devices that are constructed using 3-D printing methods often require additional CNC machining to finish the design.
Aerospace manufacturing firms use CNC machine prototypes to test out new designs. They may also require customized parts and components to repair their products in the field.
The parts used to construct automobiles are typically the result of CNC machining. This includes the metal sheets used to enclose trailers for semis and the components of the engine and drivetrain.
Custom valves and components can be created quickly and easily by using CNC machine tools. This can prove invaluable for plumbing, petrochemical and electrical companies in the Houston area.
Military applications for CNC machining include the fabrication of weapons, the construction of tanks and other heavy-duty vehicles and the creation of absolutely accurate components for repairing existing equipment in the field or on the base.
Working with an established Houston CNC machine shop can provide the most practical options for companies in our area.
Benefits of CNC Machining
CNC machining services offer real benefits for Houston businesses, including the following:
Increased flexibility to create one component or an entire run
Absolute precision with tolerances of +/- .0002
Just-in-time production runs for faster deliveries
By working with a trusted and experienced Houston CNC machining company, you can ensure the greatest benefits for your business operations.
The Houston precision machining experts at Custom Components & Assemblies, Inc. can provide the most practical and precise components and prototypes for your business needs. We are ISO 9001: 2015 certified and maintain a 20,000-square-foot manufacturing facility in the Houston area to serve you most effectively. Call us today at 713-937-6225 to get a quote for your project. We look forward to the opportunity to work with you.